Our work, methodology and impact in financial education and enterprise has been repeatedly recognised in awards from think tanks, sector magazines and voluntary organisations. Here are a select few:
A prestigious award win for The Money House, our specialist financial education programme for young people moving into social housing. Since 2013 it has saved nearly 4,000 young adults from losing their first home.
The award recognises and highlights innovative practice in the sector across the capital. The 2021 awards are sponsored by the Evening Standard, Mayor of London and London Housing Foundation.
View More
Radio Today's Young Audio Awards 2023
The next generation of audio stars have been announced at the 2023 Young Audio Awards.
MyBnk's Money podcast wins the silver prize in the 'Best Podcast' category.
View More
An award that recognises MyBnk's hardwork and dedication towards financially empowering young people.
This award is given to non-profits based on merit and are awarded to commend those most deserving for their ingenuity and hard work, distinguishing them from their competitors and proving them worthy of recognition.
View More
MyBnk has won the Good Money Award alongside funders KickStart Money and TISA for delivering early intervention financial education to almost 19,000 primary school children.
The Better Society Awards reward commercial companies who are helping create a better, more equal, ethical and sustainable world for all.
View More
MyBnk and supporters have scooped a prestigious award from Third Sector magazine for their youth homelessness prevention scheme, The Money House.
The Business Charity Award: Consortium, recognised an outstanding partnership between MyBnk, the Berkeley, L&Q and J.P. Morgan Chase Foundations and London councils.
Read all about it in Third Sector.
View More
MyBnk has been named as one of the UK's leading Changemakers for helping young people avoid homelessness through financial education.
Saluting the brave and righteous torch-bearers lighting the way and changing the world for the better in 2019. One of the Top 100 thinkers, creators and agitators, as chosen by The Big Issue.
View More
MyBnk has been recognised for its leading role in impact measurement by being accepted into the 'Impact Champions Network' with the New Philanthropy Capital.
Impact Champions work directly with voluntary organisations and support them to develop their impact practice, comprising a range of organisations from funders, commissioners, membership bodies and infrastructure organisations.
View More
MyBnk has won a national award for our work helping young people manage their money and start their own enterprise.
We were recognised as demonstrating excellence and achievement in what we do and deliver a clear benefit to young people, many of whom are disadvantaged by poverty, or are marginalised in some other way.
Read all about it, along with a new frontline video, in The Guardian.
View More
MyBnk's survival money management programme, Money Works, has won the Leaving Care Award from the leading youth sector magazine.
We were recognised as providing the initiative that has done the most to help young people leaving the care system make a smooth and successful transition to adulthood by supporting their accommodation, health, housing, and training and employment needs. Read the judges comments here.
View More
MyBnk have won a major award for proving the positive impact of our financial education programmes on the lives of young people.
The Mayor of London and Metropolitan University initiative is London's first children and youth evidence hub. Project Oracle examined our training and quality methods as well as independent assessments, concluding we are:
"…an exceptional youth sector organisation that demonstrates a direct benefit for young people's employment and life chances".
View More
MyBnk has won an award from the respected think-tank, the Centre for Social Justice
It recognises us as an organisation helping people out of poverty and dependence, and into a life of independence and freedom – challenging the root causes of poverty.
In addition we received £10,000 to continue our important work and now join the CSJ Alliance of over 300 of the most effective grass roots, poverty-fighting organisations.
View More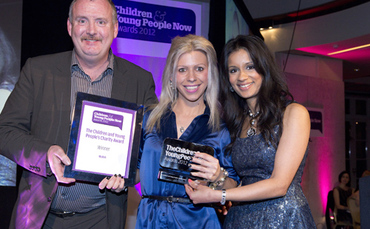 This award was decided by young people and those working to give young people the support to succeed.
CYPN called us:
"A charity that has made the most impressive contribution, at a local and national level, in improving the life chances of children, young people and families."View More
Our programmes have scooped two Community Education Awards!
Haberdashers' Aske's Knights Academy, won The Personal Money Management Award for Money Twist and Walthamstow School for Girls secured The Commitment to Saving Award for their MyBnk-in-a-Box microfinance scheme.
View More